Snug Harbor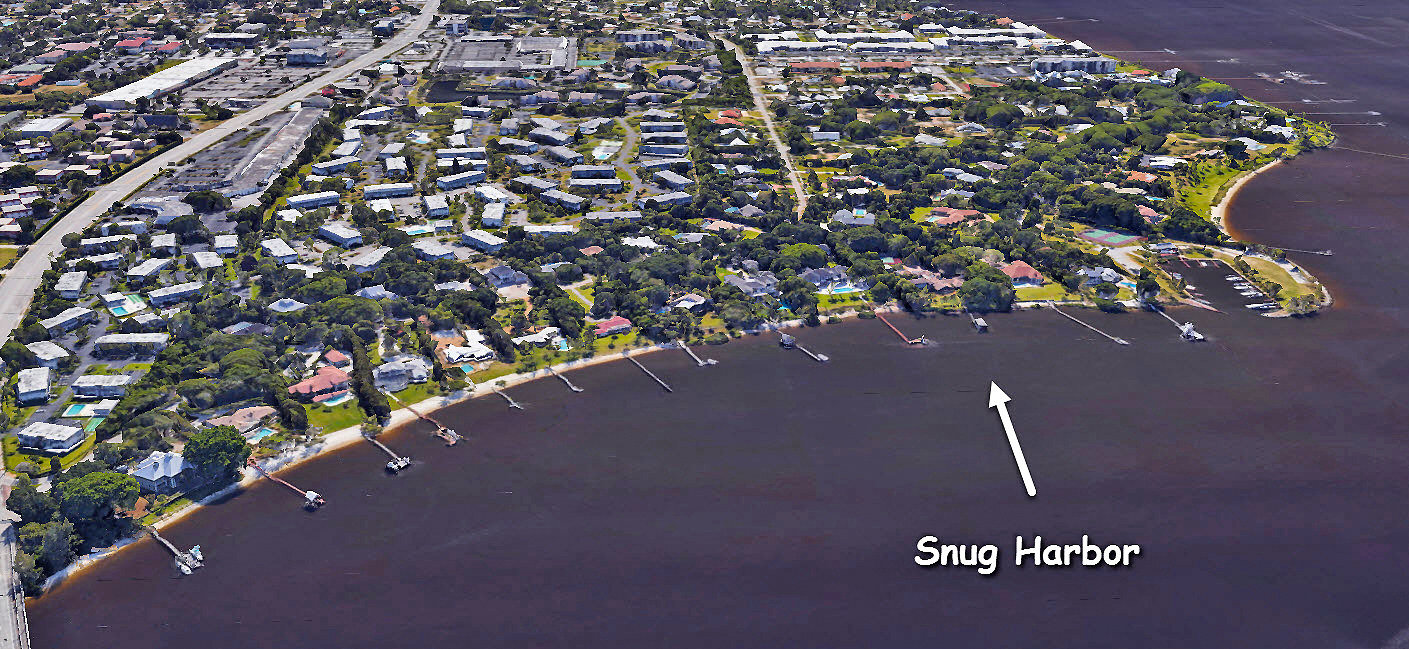 Snug Harbor Real Estate in Stuart Florida
Snug Harbor homes for sale:
A unique enclave of only 72 home sites on the shores of the Saint Lucie River with easy access to the Ocean, shopping, and downtown Stuart FL.  This is one of the prime neighborhoods in Martin County.  There are both waterfront and non-waterfront homes in Snug Harbor.  All homes have at least 1/2 acre of land with many of the waterfront estates on close to 2 acres of prime real estate.  This community is governed by a condo association framework and as of September 2022, the HOA fees are $188.00 per month.  There is also a non-refundable capital contribution of $6,500 for anyone purchasing a home in Snug Harbor
Residents have access to a community marina with deep water dockage and a boat ramp.  There is trailer parking for boats and a clubhouse.  Two tennis courts that also double as pickleball courts and a little playground.  Snug Harbor is an active friendly community with numerous activities planned throughout the year.  All ages and pets are welcome.  Rentals are also permitted.
Recently sold in Snug Harbor:

When you begin to think of warm soothing sunshine, clear refreshing water, beautiful pristine beaches, and leisure beyond the normal realm you start to think Florida. Not only does Florida, the Sunshine State, supply its residents with ideal subtropical or tropical weather year round it also compliments the climate with activities that stretch in any and every direction. This is just as true when you begin looking at the properties available in the Snug Harbor real estate market.  Snug Harbor is located in Martin County, Florida which sits on the Atlantic Ocean side. Of course, this does not exclude any homeowner within the town from enjoying the striking sunsets that take place over the Gulf of Mexico. Just another one of the perks that come along with purchasing a home out of Snug Harbor real estate. And this is just the beginning:
Martin County Fair
Stuart Air Show
Numerous state parks
Theme and water parks
Dinner shows and theaters
Historical museums
These are just a few of the opportunities you will have when you begin the venture of owning a piece of Snug Harbor real estate.
The community organizations within Snug Harbor real estate display their commitment to making this residential area a place you will be proud to call home. Settle right into the lifestyle and choices that go hand in hand with Snug Harbor real estate. Begin doing your part through one of the rich experiences of volunteering for and with your neighbors.
Habitat for Humanity
VFW posts
Salvation Army
United Way of Martin County
Big Brothers Big Sisters of Martin County
Council on Aging for Martin County
Snug Harbor real estate became a reality due to a group of men who had the foresight to create an exclusive community on the waterfront.  The homes of Snug Harbor offer a wide variety to appeal to all discerning tastes.
Garden condominiums with panoramic views of the Intracoastal Waterway
Condos with a sense of resort style living
One of a kind masterpieces with river views and private beach
Rights to a private yacht club, marina, and clubhouse
Land for the dream home with personal dock and water rights
Snug Harbor homes and estates are both waterfront and non-waterfront depending on your preferences. With a close proximity to the ocean by car or boat and also convenient to downtown Stuart, offices, restaurants and recreational areas, Snug Harbor is one of the optimum communities in Martin County. There are only 72 home sites with a clubhouse, deep water marina, boat ramp, trailer parking and tennis courts.  There is a dynamic committee in charge of social activities year-round that make this municipal a very attractive place to call home.  You can find out more about Snug Harbor on their community web site.
Contact us today so we can assist you in finding your gemstone among the treasures in Snug Harbor real estate.
Homes for sale in Snug Harbor in Stuart FL
.
Click here to view recent Snug Harbor market reports!
.