Jensen Beach
Jensen Beach real estate brings all of the allure you are looking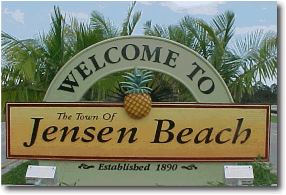 for when you think of a riverfront town. Located within Martin County in the eastern part of Florida along Treasure Coast, this area has much to offer in the way of sincere hospitality, ideal climate and natural beauty. The Jensen Beach property has recently been identified as one of the best places to retire in the United States.
Jensen Beach: Excellent for Water Recreation Sports!
The Jensen Beach real estate, once known as the "Pineapple Capital of the World", also is accompanied by a long list of things to do. There are excellent fishing spots, popular golf courses, exciting events, expansive shopping venues and a wide variety of great dining opportunities. Below is just a mere sample of what you are in store for when you reside in a Jensen Beach home.
Frances Langford Memorial Fishing Tournament
Stuart Sailfish Club Tournament
Eagle Marsh Golf Club
Caribbean Latin Fiesta
Pineapple Festival
Jammin Jensen
Treasure Coast Square Mall
Square One
Marketplace Square
Caps Island Grille
Kona Beach Café
Jensen Beach, Florida is Rich in Culture and History!
Perhaps you need more to sell you on why a piece of Jensen Beach real estate is right for you. This beach community in Florida also offers a wide assortment of cultural and art events. Visit the Barn Theatre for multiple one-acts shows throughout the season. Enter the Lyric Theater to view the historical aspects of this restored building then enjoy any one of the numerous productions that occur during the year. Jensen Beach real estate also provides access to its very own downtown arena that acts as host to anything from an Ernest Hemingway Look Alike Contest to a Mardi Gras Celebrations.
Maybe you want a more inquisitive experience. Jensen Beach real estate is inundated with ample prospects of these activities and places as well. The Environmental Studies Center allows for educational learning on the subject of ecology via seminars and hands-on involvements. The Florida Oceanographic Society, a research and educational center, is located on the nearby Hutchinson Island. In addition there are also the Frances Langford Visitor Center, Gilbert's Bar House of Refuge Museum and the Elliott Museum. 
It's no surprise so many people decide to relocate to Jensen Beach, Florida each year!
Jensen Beach Homes for Sale
All of the diverse and rich activities and agendas, whether it be sporting events, beaches, boating and fishing, charities, golf courses, historical and educational journeys, outdoor excursions or school systems, are bonuses. The Jensen Beach properties and all they have to offer are the real treasures along this coast. Neighborhoods provide many different choices including:
Senior living
Environments with security and services
Ready to Make Jensen Beach Your Next Permanent Home?
Within each one of these neighborhoods found amidst Jensen Beach real estate the choices expand even further. With the right assistance coming from a knowledgeable and professional expert in the filed of Jensen Beach real estate you can find the home that is right for you.
Homes with building plans available for expansions
Lots ready for the perfect dream home to be built
Houses that back up to preserves for built in privacy
Pool homes with separate living quarters on premise
Whatever your taste and desire is you can be sure we will be able to address it through one of the many circumstances found within Jensen Beach real estate.
So contact us, the Gabe Sanders real estate team, today to get your Jensen Beach home buying process started!